Southern Girl Granola IS A SATISFYING VEGAN SNACK FULL OF SUPER FOODS.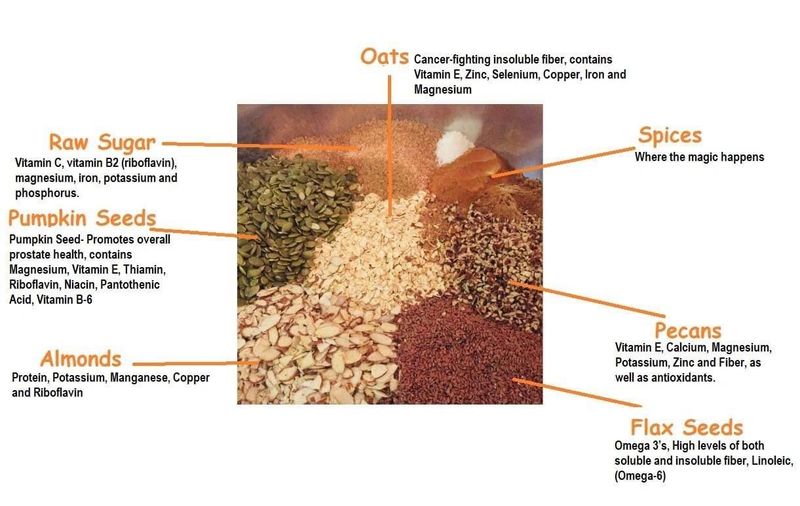 OATS:  CANCER-FIGHTING INSOLUBLE FIBER, CONTAINS VITAMIN E, ZINC, SELENIUM, COPPER, IRON AND MAGNESIUM
PUMPKIN SEED:  PROMOTES PROSTATE HEALTH, CONTAINS MAGNESIUM, VITAMIN E, THIAMIN, RIBOFLAVIN, NIACIN, PANTOTHENIC ACID, VITAMIN B-6

FLAX SEED:  OMEGA 3'S, HIGH LEVELS OF BOTH SOLUBLE AND INSOLUBLE FIBER, LINOLEIC, (OMEGA-6)
ALMONDS:  PROTEIN, POTASSIUM, MANGANESE, COPPER AND RIBOFLAVIN
PECANS:  VITAMIN E, CALCIUM, MAGNESIUM, POTASSIUM, ZINC AND FIBER, AS WELL AS ANTIOXIDANTS.
CRANBERRIES:  PROMOTES URINARY TRACT HEALTH, VITAMIN C, FIBER AND VITAMIN E.

SWEET POTATO:  VITAMIN C, VITAMIN D, VITAMIN B-6, IRON AND POTASSIUM
DARK CHOCOLATE CHIP:  Potassium, Copper, Magnesium, Iron and rich in Antioxidants